Edgo's business development manager, Majed El Masri, recently participated in a two-day meeting organised by Ingersoll Rand, a leading manufacturer of solutions for the oil and gas industry.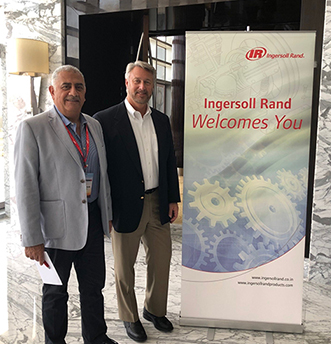 The meeting held in Abu Dhabi, UAE, brought together channel partners to showcase Ingersoll Rand's new products and innovations and to share business strategy going forward.
A number of presentations were given during the two days, covering subjects including distributor best practice, ethics and compliance. The current, difficult operating environment in Libya was also discussed between the Edgo and Ingersoll Rand executives, and a plan of action was developed to ensure that clients continue to receive the proper support. Additionally, the executives discussed plans to extend the collaboration to new markets.
Pictured above is Majed El Masri with Scott Krull, VP Ingersoll Rand.