HSBC recently announced its decision to open a branch at the new Abdali Downtown, Amman, Jordan. The announcement was made following a signing ceremony with HSBC's CEO, Karen Adams. The agreement with HSBC provides a long-term lease for both retail and back office space.
The Atrium building, strategically located at the heart of the new Abdali Downtown project, provides easy and efficient access from all directions and is a short walk from the Downtown's main shopping centres, the Boulevard and the Central Market Place. These two developments represent a focal point within the new Abdali Downtown project, combining elements of indoor and outdoor entertainment, shopping and luxury living.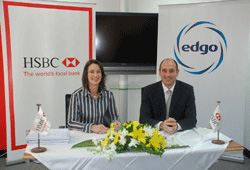 Omar M. Masri, Vice Chairman of Edgo commented: 'We are proud to welcome an anchor tenant such as HSBC. The bank has been operating successfully in Jordan since 1949 and its decision to expand into the Abdali project is a clear sign that our offering is a credible one. The Abdali project is well positioned to emerge as a major commercial hub in the region, this being asserted by HSBC's move for a new branch there.'
The first phase of the new Abdali Downtown project, which offers a built up area of around one million square metres has been sold completely to individual developers who have, in turn, already sold a significant number of units, both residential and commercial, to end users. Consequently, Abdali's management is certain that with the speed of construction that the project is experiencing now, the first phase of the project will be completed by 2010.