Case study
Edgo Oman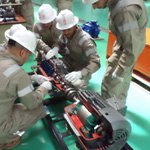 From two highly technical workshop facilities in the Edgo Services Center in Oman, Edgo works with partners, including GE Oil & Gas and Vmonitor/Rockwell Automation to provide integration and assembly services and supply industry-leading products to the oil and gas sector.
As part of a landmark contract Edgo with its partner, GE Oil & Gas provides integrated progressing cavity pump equipment and services and integrated reciprocating rod pump equipment and services to Petroleum Development Oman (PDO). Oman is one of the major artificial lift markets in the world with a population of more than 8,000 wells artificially lifted.
Working with Vmonitor/Rockwell Automation, Edgo designs, develops, assembles and integrates remote telemetry systems (RTUs). With its partner Cegelec, Edgo has played a key role in providing manpower for the pre-commissioning and commissioning for the Musandam Gas Plant in Oman.
A major focus for Edgo in Oman, is the national drive for In-Country Value (ICV); improving the skills and employability of the local workforce along with increasing the incorporation of Omani goods and services within the procurement process of companies.