Edgo is making significant improvements to its medical clinic at the ESC (Basra) in Iraq. In addition to upgrading all the facilities at the clinic, Edgo has contracted FrontierMEDEX, an established provider of remote medical services, to take over the clinic's management.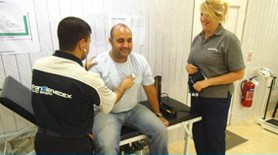 FrontierMEDEX has been offering medical services in some of the world's most challenging locations for thirty years and has worked in Iraq since 2003. FrontierMEDEX's parent company is UnitedHealthcare, a Fortune 22 company that safeguards the health of more than 75 million people in over 50 countries.
Building work to upgrade the facility has already begun and within eighteen months the clinic will offer both surgical and laboratory facilities, as well as occupational health services and a visiting dentist. The completed clinic will include an intensive care unit, blood bank, xray and ultrasound.
Local Iraqi doctors will continue to work at the clinic and will be supported by expatriate nurses and physicians.