Munib R Masri was named Humanitarian of the Year at the Arabian Business Awards in Dubai this week. Honored for his humanitarian work for the people of Palestine, Mr Masri, was chosen for the prestigious award from 300 people who were nominated from all over the world.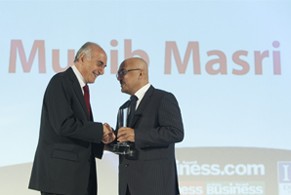 The Arabian Business Awards are now in their 9th year and are some of the most important awards in the Middle East.
Accepting the award, Mr Masri said:
"All the humanitarian work I have done and continue to do is motivated by my love for my people, my homeland, and especially Jerusalem.
The goal of humanitarian work is to promote what is most civilized, most humane, about our communities. It is to elevate the culture of freedom, dignity, and independence. I also see my work as a partnership with those who wish to contribute to a better world."
After accepting the award, Mr Masri participated in a discussion about the effects of the Arab Spring, following a speech by Qatar's Sheikh Mohammed A. J. Althani.
Other winners of awards included Mohammed Alabbar, chairman of Emaar (Visionary of the Year), Zain Iraq (Telecoms Company of the Year), the Arab Bank (Bank of the Year) and Saudi Arabian Airlines (Airline of the Year).