Edgo chairman Munib Masri was presented with the shield of Excellence and Achievement in honor of his support of scientific research and higher education in Jordan and Palestine at the 26th meeting of the Al-Quds University Council.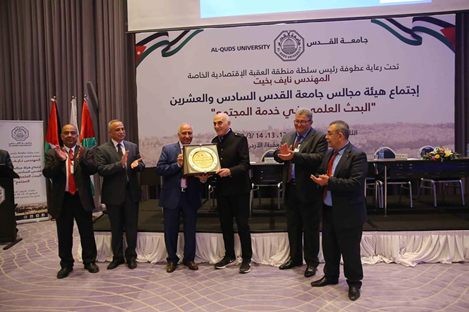 The meeting held on 12 March 2019 under the patronage of Naif Bakhit, chairman of the Aqaba Special Economic Zone, was attended by a large number of professors, researchers and local dignitaries.
During the meeting, the theme of which was 'scientific research and community service', Mr Masri gave a speech which underlined the importance of supporting scientific research and investing in creative and pioneering projects. In his speech, the Edgo chairman emphasised the importance of building effective educational and scientific research systems to create innovative generations capable of contributing effectively to the growth of the economic, social and political life of the region.