Despite experiencing some of the most challenging times ever faced in the oil and gas industry, teams at Camco have shown strengthen and resilience. Camco has continued to successfully complete contracts and grow operations whilst dealing with operational restrictions due to the pandemic, budget cuts by the Libya National Oil Corporation (NOC) because of the shutdown of the oil terminals and crude production, and security constraints.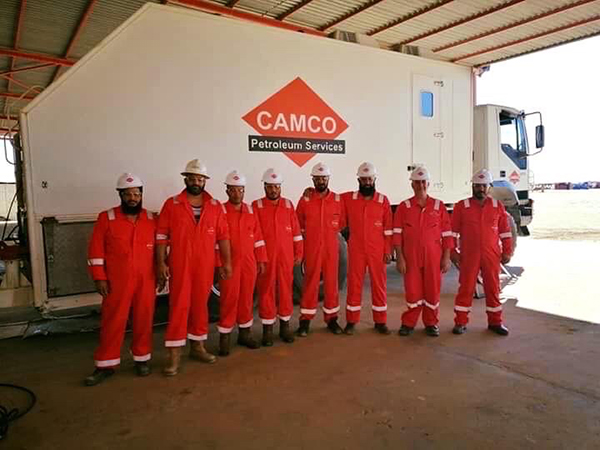 In the last couple of months, Camco has completed its first wireline open-hole job for Waha Oil Company (WOC), Libya's second-largest onshore oil producer. Using conventional open-hole logging services, Camco's geoscience team delivered excellent quality data and a quick look petrophysical interpretation report, within two hours of receiving the data.
After completing several successful open-hole wireline jobs for Sirte Oil Company (SOC), the company has awarded more wells to Camco recognizing the company's reliability, strong in-house technical support, and in-depth experience in Libya.
Camco has also been working with the Arabian Gulf Oil Company (AGOCO) having been awarded development wells and a significant number of wells for slickline, wireline and well testing services in AGOCO's onshore fields. Preparations are also underway for a major campaign with our clients to perform and evaluate well integrity and leak detection analysis using NOISE technology from our partner TGT.
Underlining its support and commitment to Libya's oil and gas industry, Camco held two workshops last month for Libya's National Oil Company (NOC) and Nafusah Oil Company (NOO). Both workshops showcased the latest technologies available from Camco and its partners in Libya, as well as wider developments in the industry.
The workshops focused on advances in wireline open-hole and cased-hole technology and engineering studies that aim to improve the understanding of reservoir characterization, formation evaluation, well integrity advanced measurement and data integration. Further discussion covered how to better understand true sources of production and identify field development opportunities to extend the productive life of assets and make better production management decisions. Camco's geoscience team were able to use their expertise and experience to offer advice and solutions on how to deal with low resistivity pay reservoirs in fields in North West Libya, which present a particular challenge when using conventional wireline logging technology.