Edgo's oilfield services arm, Camco, has had its current contracts with Mellitah Oil and Gas Company (Mellitah) for Slickline operations in Bouri (offshore) and Abu-Attifel (onshore) fields extended. Camco has a long history in Libya and has continued to work closely with all its clients in the country to support them with high quality oilfield services. Camco remained operational even during the worst times of the Libyan civil war and when many other companies vacated the country.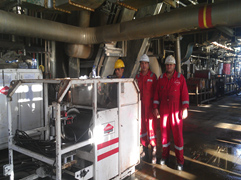 Although Camco was forced to scale down its operations in some of the more high-risk fields, its operations in the secured fields including offshore remained untouched. Since mid-2017, Camco has continued to ramp-up its operations and activities in Libya by maintaining a permanent presence in its Tripoli and Benghazi offices, as well as in the field allowing the team to assess the prospects for each field. Camco already offers Slickline, Artificial lift, Well and Drill-stem testing, Logging, Memory gauges, Multiphase flow metering, Perforating services, Bottom hole sampling and Wireline services (CH/OH).
Mellitah Oil and Gas Company is a Joint Venture between Eni and National Oil Corporation (NOC). It specializes in Oil and Gas treatment facilities, crude oil, and products storage tanks, LPG and solid Sulfur loading facilities. Mellitah Oil & Gas B.V. was formerly known as Eni Gas B.V.
Bouri is located 120 km north of the Libyan coast. Current production is approximately at 44,500 bpd and with proven reserves of approximately 4.5 billion barrels and 3.5 trillion cubic feet of associated natural gas.
Abu-Attifel is located 300 km south of Benghazi. Current production is approximately 31,900 bpd. Abu-Attifel field was the first "giant oil field" discovered in Libya.