Camco continues to grow its operations with an order for new, state-of-the-art equipment, including logging trucks, new slickline units and mobile well testing systems.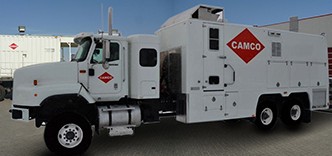 The new equipment, which is due to be delivered in the coming months, includes double drum wireline logging trucks equipped with full Warrior systems for data acquisition, which will be used for running cased hole, open hole logging and perforation operations in land wells. The well testing sets will consist of 1440psi rated separators with inlet piping that can handle high-pressure wells. The sets will be mounted on trailers allowing full mobility and fast deployment.
Cranes specifically designed for the desert environment have also been ordered to perform rigless workover services, as well as new modular lightweight slickline skid units and slickline and wireline combination trucks.
Camco's services will expand further in the coming weeks with the opening of a new workshop in Iraq.