On May 27, 2020, Brown announced the establishment of the first endowed professorship in Palestinian Studies at a U.S. research institution.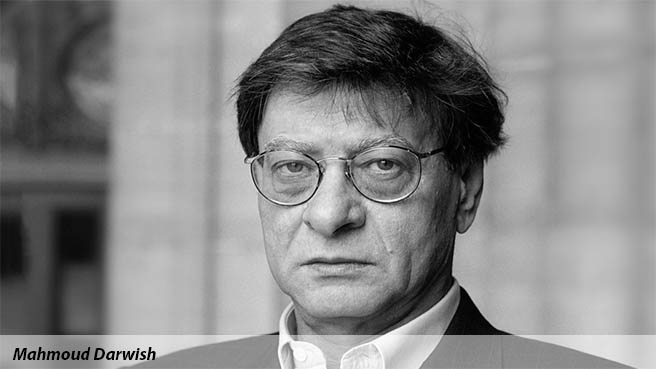 When the Brown Corporation announced in May that it had approved the establishment of the Mahmoud Darwish Professorship in Palestinian Studies and appointed Professor Beshara Doumani as the inaugural chairholder, congratulatory emails flowed into Providence from both donors to the professorship and supporters of Palestinian studies around the world.
Omar Masri, a director of the Munib and Angela Masri Foundation which is supporting the professorship, wrote: "For many reasons, Brown is the ideal home for this professorship, and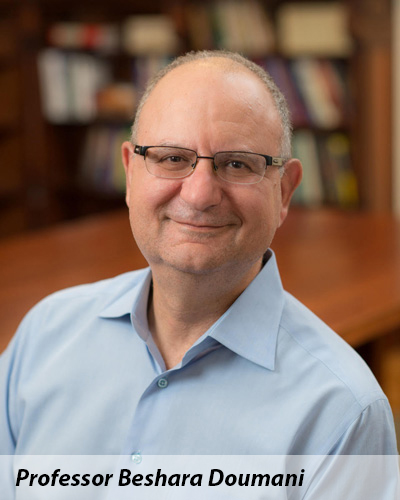 we look forward to seeing the professorship prosper and contribute meaningfully to Palestinian knowledge production on a national and international scale."
His words encapsulate the goal of nine different donors who came together to fund an endowed professorship in Palestinian Studies at Brown: to produce knowledge about the culture, history, and daily realities of the Palestinian people, whether they remain in the region or are part of the diaspora beyond the Middle East.
"The most important thing about the chair is that the holder puts Palestinians at the center of their research, regardless of their geographical location," says Professor Doumani. "I am very proud of Brown University for taking the lead in institutionalizing a field of study that recognizes the global importance of the Palestinian experience."
Creating an ecosystem for Palestinian studies
Prior to 2012, Brown University offered internationally recognized programs in ancient Middle East studies fostered by a number of academic departments, including the Joukowsky Institute for Archeology and the Ancient World and the Watson Institute for International and Public Affairs. When Professor Doumani arrived in Providence, he helped the University build expertise in contemporary Middle Eastern and Islamic studies. This plan included fundraising for a permanent endowment for the program and for a cluster of three additional faculty positions in the field. The Mahmoud Darwish Professorship in Palestinian Studies is the third of these to be established at Brown, following the Aga Khan Professor of Islamic Humanities and the Stephen Robert Professor of Middle East Studies.
Brown also established a Middle East Studies Advisory Council, whose membership consists of a global group of alumni, parents and friends with an interest in supporting Middle East studies. Together, these relationships became the foundation for support of Professor Doumani's vision to create a robust intellectual program specific to Palestinian studies.
"I wanted to start a Palestinian studies program here because their history, experiences, and voices are often marginalized in academic research about them," he says. "But it has been a growing field of study in the last 15 years, and this was an opportune moment to take stock of the field and help shape its research agenda."
E. Paul Sorensen '71 ScM'75 PhD'77 LHD'19 hon., P'06, P'06, a longtime member of the Middle East Studies Advisory Council and a donor to the Mahmoud Darwish Professorship agrees. "I just do not see how any school can have Middle East studies without having Palestinian studies. Palestinians are an integral part of the history and culture of the region."
Sorensen and his wife Joan Wernig Sorensen '72 LHD'19 hon., P'06, P'06 began by supporting a graduate stipend in Palestinian Studies at Brown, which has since become an endowed postdoctoral fellowship. Their interest was sparked after their son Christian '06 spent time teaching English at a Palestinian school in the West Bank.
"Learning from him about the area and local living conditions taught us that scant reliable information is available via normal channels," says Mr. Sorensen. "Supporting an area of study focused on Palestine and Palestinians at a U.S. institution is one avenue to expand sources of reliable information."
Building a coalition of support for an endowed professorship
It is unusual to have nine different donors come together to endow a professorship. But, when Professor Doumani, Sorensen, and others began reaching out to alumni about supporting Palestinian studies at the University, they found a great deal of interest.
Basem Salfiti '93, whose parents were born in Jaffa, Palestine and were part of the first wave of Palestinians to move to Jordan due to conflict in the region, was among the first to lend his support.
"I think all of the donors involved like the approach of New Directions in Palestinian Studies at Brown," he says. "It's more holistic. It's not just focused on politics. It concerns culture and history. It can go in so many different directions, and that's what you want. You want to be able to document and drive research around all these issues."
Given the unique opportunity to establish the first professorship in Palestinian studies at a major U.S. research university, interest in supporting the position soon expanded beyond Brown alumni to include prominent Palestinians with no previous ties to Brown, including the Masri and Abu Ghazaleh families, among others.
"When this conversation started, it took a lot of people. But it was a typical Brown project," says Salfiti. "It wouldn't have happened like this in other places. People were interested because it was such a unique program, but it also fit right in with what they were doing philanthropically already."
Many of the donors pointed to the "multiplier effect" they feel the Mahmoud Darwish Professorship will have at Brown and in the wider world. Rasha Abu Ghazaleh Farouki remarked, "When we heard about the establishment of Palestinian Studies at Brown, we were incredibly excited about the precedent that would be set. Our conversations with Professor Doumani confirmed that we shared a vision for this program to become a beacon that other higher education institutions could follow and emulate."
"The academic, institutional, and symbolic significance of this is phenomenal," says another Palestinian alumnus and supporter. "At the end of the day, Brown doing this will embolden the intellectual integrity of others. If you are committed to being a hub for Palestinian studies, you can start building the framework to explain and legitimize multiple Palestinian issues in an apolitical way."
"Having a top-notch academic sit in the chair will generate enthusiasm for Palestinian studies due to scholarly publications; academic first-person interaction; and general recognition of Brown's academic excellence," says Sorensen. "Where will that lead downstream? We're hoping it will lead to conversations here and globally. This is how you foster communication and dialogue."
In addition to offering their support, the donors were unanimous in approving Professor Doumani's suggestion to name the endowment for the late, renowned Palestinian poet and humanist Mahmoud Darwish. "His words best expressed the Palestinian condition and his personal experiences spanned the three major segments of the Palestinian people," Doumani says. "He was a Palestinian who lived in Israel, then a refugee in exile, and finally a resident of the West Bank after the Oslo Accords."
"Mahmoud Darwish embodies the soul of the Palestinian people in many ways," says Masri. "His name resonates across the region. It is highly symbolic of what Brown is trying to achieve here."
As Professor Doumani begins his term as the Mahmoud Darwish Professor of Palestinian Studies, the donors involved in establishing the endowment look forward to the exciting work and discussions that will result.
"I was always proud to be a Brown graduate," says a Palestinian alumnus. "But I'm even prouder to be one today. We're part of an institution that's pioneering intellectual work about something we believe in deeply."
To learn more about supporting Palestinian Studies at Brown,
please contact Robin Gibbs, Regional Director, International Advancement, at Robin_Gibbs@brown.edu